Backstory
As I wrote previously, I have had a bit of a struggle with commuting to and from Warminster. My total commute time is around 4 hours a day, usually a little less, but still a sizable chunk of time. While I enjoy playing games and quite like my PSVita, I need to work on my own side projects to maintain a degree of artistic freedom, updated skillsets, and to set myself up for future success. I have not been able to do nearly as much of that as I would have liked these past few months.
My solution was to look into getting a laptop. The commuter rail affords me somewhere in the neighborhood of an hour each way for a total of 2 hours a day of personal work that I can do. The train is generally peaceful and not so crowded that I need to find interesting ways to share seats. I figured a laptop, specifically a thinner 2 in 1 (laptop doubles as a tablet/drawing surface) would be a great way to work and remain compact.
I'm now a month in to my rides with the Acer Predator Helios 300 (overlong name for sure) and I can honestly say that I get to look forward to my train rides. I'm up and running in a matter of moments, and I have almost the entire ride to create materials, model, sculpt, and write.
If you google this laptop, you'll see it's definitely not a thin and light convertible. I called an audible on this purchase: I opted for a full on gaming laptop instead of a more "productivity" focus 2 in 1.
Circus of Value
I am a very value minded consumer and as such, I try to find the best bang for the buck when it comes to my purchases. My PC components are no different, I look for the best performer I can afford at that time for what I'm doing. With this Laptop purchase, I looked at it at first in as a companion device-my PC at home would do the heavy lifting while my 2 in 1 would handle whatever it could on the go. The more I thought about it and the more I looked at the specifications of the different machines, the value I was getting for my money wasn't there. A lot of this comes down to what my requirements were:
On the go, a Core i7 is a must
While most people can make do with 8GB of Ram, I needed 12GB at minimum and 16GB preferably.
I work in real time applications, so I need a GPU that can handle some potentially heavy workloads.
Battery Life is always nice, but if I'm only working 2 hours a day it's not going to kill me if I only get 2.5hrs on the train.
Functionality over design
When I looked at the cost and specs of the 2 in 1 laptop solutions, I would have to pay $1600 or more for a system that, in all likelihood, had a number of compromises in it. I wanted to stick as close to $1000 as possible and the 2 in 1's that I was looking at all lacked in a number of ways at that price.
Ram was often 8GB
Most GPU options were Intel Integrated or older Nvidia MX chips.
Core i7's were out of the picture most of the time
I started looking into gaming laptops thanks to Lenovo. I was heavily considering their Yoga 730 2 in 1 when I found their Legion series. I started looking over what I could get for $1000 bucks and it was a definite step up from their Yoga line. From there, the wheels started churning and I did the math: "If I use my tablet on the train and get a gaming laptop, it'll last me longer and I'll be using tools I already have." Using the tablet easily saved me $80-100$ bucks on the pen alone (until I lost it) and that money I decided to use to buy a beefier machine.
Over Labor Day weekend, I looked at a few different Laptops: HP Omen 15, Lenovo Legion Y530, Acer Predator Helios 300, and a few more expensive MSI, RAZER and Dell laptops. It came down to the previous 3 machines after I looked at what money could buy. In the end, I chose the Helios 300 and I'm incredibly pleased with my choice.
The Acer has a full fledged GTX 1060 while the best GPU I could get in the Y530 was a 1050Ti. I could get a GTX 1060 in the Omen, but the price became too much.
Having an SSD instead of a mechanical Hard Drive is a big bonus. 256 GB isn't a ton, but I can upgrade when I'm ready.

My Desktop will still house my projects overall so with smart management, I should be fine for a while.

16GB of RAM was also a huge selling point. I could get 16GB in both the Omen and the Y530, but price went up too.
I could get the Predator right away and with no sales tax by shipping to Kelsey's workplace.
As you can see, most of my choice came down to the cost. I got much more of the PC that I needed with the Helios 300 than I could at the same price point with the other machines. I have, what is more or less, a version of my desktop on the go with less storage and RAM but with a beefier CPU and more cores. I can't complain at all.
How is it going?
The Helios 300 is doing very well thus far. On the train (where most of my work occurs) I've been getting about 2.5 hours of battery when doing Substance Designer and close to 4 hours (according to Windows) when writing. Designer uses the GTX 1060, but I've tuned the system to prioritize battery life quite a bit while off the cord (GPU is on Optimize Power, CPU is set to not exceed 75% clock speed). This means I do have a bit of a stutter or pause when I'm adding new nodes and the node graph is a touch slow, but it's pretty smooth overall. I've only dabbled with the other programs thus far (just where I am in my projects) but it handled them all just fine.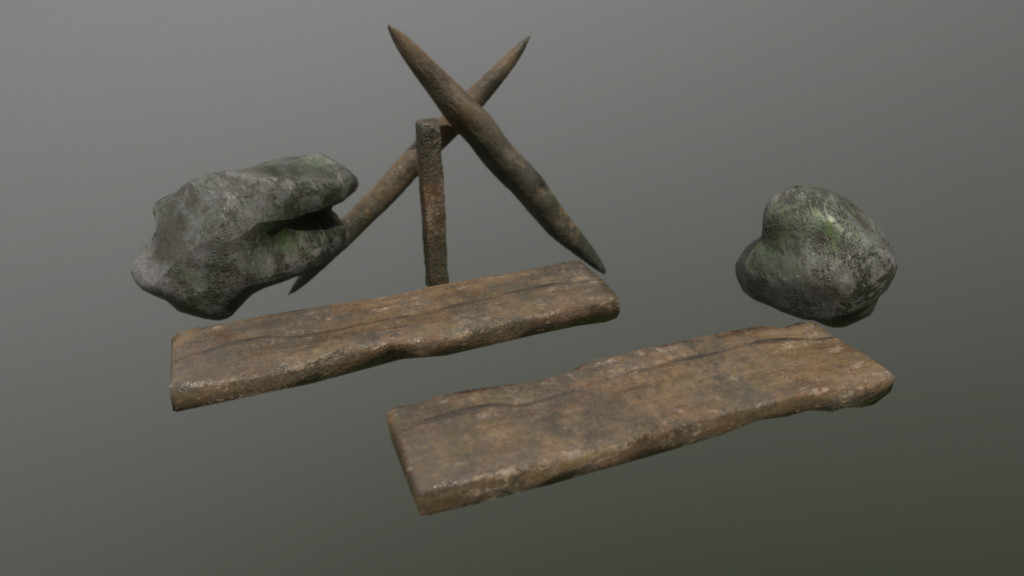 Except Zbrush.
Nvidia laptop GPU's have a system they called Optimus. The integrated graphics chip that comes with most CPU's today handles most tasks. The dedicated graphics card only turns on when it's needed, like if you were playing Fortnite or using 3DSMax. This is a pretty cool system and it definitely helps with battery life, but it's not perfect. Zbrush does NOT switch over to the GTX 1060 on my laptop, even when I manually tell it to. I'm not sure what is up, but it continues to use the Intel integrated. Zbrush is an odd duck in a lot of ways and I'm hoping that I can find a fix. Alternatively, I can disable Optimus at a driver or bios level before I start Zbrush. That should do the trick, although I expect my batter life will take a bit of a hit.
I'm 99% sure this is a Zbrush/Nvidia issue and not an issue with my specific laptop. This thing switches properly otherwise.
Working with my Intous Pro on the Train has gone quite well. It's very wrist friendly and controls great on the Laptop screen. I'm very glad that I got that tablet instead of the other options I was looking at last year. Modeling with it will be a learning exercise though. I'm going to be switching to Blender from Maya LT (going to save that cash) in December so I'll be learning two things at once!
If only I…*sigh*…didn't lose the pen. $80 down the drain.
Now I can work from anywhere
With my new Laptop, I can truly work from anywhere. Am I going to New Jersey for Christmas? I can bring the laptop along and model. Will I be in Indiana for Thanksgiving? You better believe this is coming with so I can sculpt. What about a business trip or an extended contract? No need to drag the desktop with me now, I have this beast of a machine. I can even work at a coffee shop in Philly if I chose, creating art while sipping on a cup of joe.
This machine has also done something for me as well, outside of being a great tool that augments what I can work on and when I can work. It has gotten rid of any excuse to not create, be it a texture set, 3D model, or words to 'paper'. I have the power in my backpack to do everything I did from home on the go. If I choose to ignore it, it's on me.
I have no plans to let these hours go to waste anymore. Oh yea, it's pretty solid at gaming on the go too.